Utitlizing Older Workers for Competitive Advantage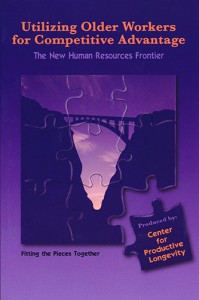 The Time Bomb is Ticking as Baby Boomers Approach Early Retirement
As the oldest Baby Boomers reach early retirement age in 2008, the U.S. faces enormous problems…talent shortages are projected as high as 10 million by 2010.
All industrialized countries are facing an aging and shrinking population-ageing because more people are living longer (longevity increased by 30 years in the 20th century) and shrinking because of lower birth rates.
78 million Baby Boomers are aging, with the oldest reaching early retirement age of 62 in 2008 and each year thereafter through 2025 at 4.28 million.
80 percent of the Baby boomers indicate that they intend to keep working after retirement—a large and growing talent pool with experience, expertise, seasoned judgement and proven performance that is critical to utilize for economic growth and development.
In 1950, there were 16.5 workers for every retiree; today that ratio is 3.3:1 and by 2030 will be reduced to 2:1.
With unsustainable social programs, a federal deficit of $357 billion and national debt at $9.3 trillion, utilizing workers 55+ will sustain U.S. productivity gains and economic growth
Warning: Failure to utilize this large and growing talent pool to a substantially greater degree will reduce productivity gains, economic growth and our standard of living.
Price: $9.99 (includes Shipping & Handling
Working Through Demographic Change
How Older Americans Can Sustain the Nation's Prosperity

This book is particularly timely because it deals with matters of fundamental national importance that require consideration and action—NOW. it is intended for everyone interested in issues that relate to aging, retirement, meeting the employment needs of the 21st century, and sustaining America's economic and social prosperity. It has two essential objectives: to change the national mindset about aging and retirement because present thinking is no longer relevant, and to stimulate the substantially greater utilization of Americans 55 and older in productive activities.
Price: $9.99 (includes Shipping & Handling